Metal Roof Maintenance

Metal Roof Repair

Learn how to make spot repairs to your metal roof. Serviceable repairs will save you money when it is time for the roof to be coated.

Metal Roof restoration

Add 10 or more years to your metal roof with our metal roof restoration system. Get a seamless roof without costly tear off and disruption. Stop roof leaks and prevent further degradation.

Known Problems with Metal Roofing

Metal Roof Leak - The Dirt Seal Effect (DSE)

If you have an older metal building constructed using corrugated or r-panel profiles, this one is for you.
Metal Roof Coating
Metal Roof Repair
Why Consider a Metal Roof Coating Application?
A metal roof coating can extend the life of your roof by 10 or more years. Metal roof leaks are difficult to locate. Roof leaks can come from seams, fasteners, flashings and penetrations. It does not matter if the roof is nearly flat or pitched, old or new. It will leak.


Roof replacement is very disruptive to your operations.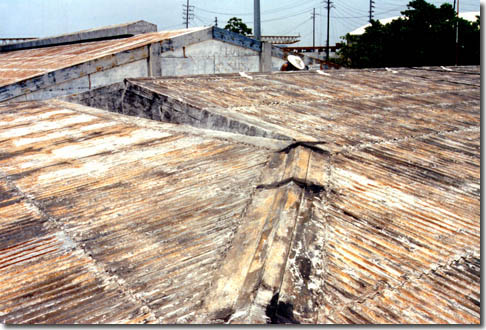 BEFORE: This metal roof was built in the 1970's and has survived numerous typhoons. It has lots of leaks and is completely rusted. Roof replacement was already scheduled when the building manager suggested an elastomeric roof coating system to restore the roof.
Metal Roof Restoration Process
Cleaning and Surface Preparation

The entire metal roof was thoroughly washed using a 3,000 psi pressure washer. A biodegradeable degreaser was used to ensure a clean surface. All seams, flashings and penetrations were carefully sealed to render the roof watertight.

Priming

Priming ensures a good adhesion between the metal roof surface and the elastomeric coating. We have primers for rusted metal roofs.

Top Coating

30 dry mils of elastomeric roof coating is applied on the entire metal roof in 2 coats.
AFTER: The metal roof coating job added 10 years to the life of this roof. The seamless membrane solved the leaks and there was a noticeable temperature reduction in the building. The owner was very pleased that he had the warehouse behind it coated with elastomeric roof coatings as well.
Contact Us Today
At David Fabbo can meet all your home improvement needs.
No job is too large or too small.
Call us at 877-322-2699 or 908-212-1249
to set up a meeting and get an estimate for your job.
Or email us by clicking on this link: Home Improvement Estimate


General Contractor & Project Management - Real Estate Development
- Mortgage Financing - Commercial, Industrial & Residential
Web Hosting powered by Network Solutions®